Make people click, like & share your message.
I work with brands focused on health and wellness – turning your static posts into scroll-stopping dynamic content.
Animation helps boost your social media engagement.
Animating your social media content can be a powerful way make your posts more effective. Moving content engages and stops people scrolling by.
Your target market for health and wellness brands spends a lot of their time online exposed to a huge amount of content.
It's important to stand out from the noise and stop the scroll, engage and entertain your audience so your message can be taken in. 
Add motion to capture your audience's attention.
I help tech companies focussed on the health and wellness industries by converting their static posts into highly effective and engaging content using a combination of animated graphics, typography in motion, video footage, photos and music. 
I make your content more eye-catching and help you get more clicks, likes & shares!
I'm a Freelance Motion Designer – My passion lies in creating dynamic content for tech companies focused on the health and wellness industries. With a strong personal connection to wellness and health, I'm dedicated to working with companies that share my values and vision.
More about me later..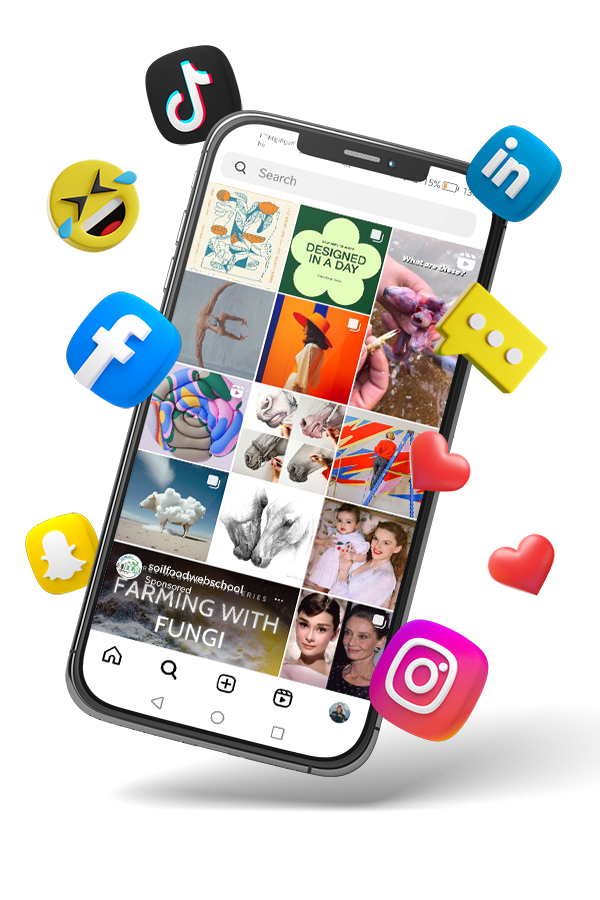 What are the benefits of animated posts and ads?
There are lots of reasons to create animated social media posts, let's look at a few here:
Bring your message to life
Integrating motion into your social media posts can make them more captivating and attention grabbing. Moving content can instantly grab the viewer's attention and encourages them to stop scrolling and take in your message. Not only does it make it harder to scroll past, but it can also communicate more effectively and leave a lasting impression on your audience.
Tell your story & build stronger relationships
Dynamic content will help evolve your relationships with customers over time through the power of storytelling. By building a narrative relationship with your target audience, you can create a deeper connection and foster a stronger sense of loyalty.
Increase your following. Boost your sales.
Simply put, captivating content is proven to get more engagement which equals more eyes on your brand. More clicks, likes and shares means more customers.
"Adriana's exceptional creative abilities enriched the stories we were telling, resulting in an impactful and engaging viewer experience."
Claudia Crusell-Balogh Founder & CEO – Carehubble
"It has been an absolute pleasure working with Adriana and I would highly recommend her. I'm already looking forward to working together in the future." 
Cora Muccitelli Brand Digital & Marketing Design – Inny Creative LTD 
I design, illustrate and animate
I'm a designer  who learnt how to animate, rather than an animator who needed to learn design.  You deal with only one person from concepting through to posting!
I'm better value than an agency
I operate as a freelancer so I don't have the large overheads of an agency.  This means I offer you exceptional value – so you can post more!
I can manage everything for you
I've worked with a wide range of direct clients and leading agencies, so I know how to manage everything making sure your campaign is a success. 
Choose how we work together: Single Posts or great value Bundles
This provides the ultimate flexibility, plan just one post at a time.  It's great when you only occasionally need an animated ad to compliment your existing posts, or perhaps you just want to try working with me first with less commitment. I completely understand!
If you post regularly or you want to plan your campaign over a longer period of time, I have a range of bundles to suit your needs and budget.  These offer great value and we can build a really good relationship to turbocharge your social media domination together.
Great prices, big impact, everything's covered.
Types of Posts & Platforms:
Want to know more or just discuss your ideas?
Just get in touch and we can have a chat.
I'm friendly and it's free!
I'm freelance Motion Designer, Animator, and Illustrator.
I'm passionate about creating visually engaging content that captivates and inspires my audience. With a background in Fine Arts and Graphic Design, I offer a unique blend of creativity and technical expertise.
I work closely with my clients to turn their ideas into impactful content, from concept to completion.
As a freelancer, I offer exceptional value and can create something from nothing that fits your specific needs and budget.
I'm confident you will get a great result if we work together. Find out more here:
Get started with your dynamic content
I'm confident we can create something amazing together! Find out more here
Animated  social media content:
Send me an email about anything else: